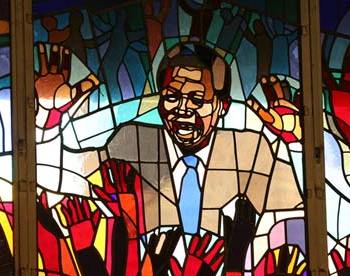 In discussing the Holy Catholic Church, the types of "visible" churches came into discussion. These churches have true believers in them, some have very few believers and some have many true believers.
There can be more types drafted from the Bible; however, I was able to extract the below 12 different types of the "visible" church at the time of the Apostles. These Church types are prevalent today. These are just examples from the Bible. Some churches have several of these attributes. For Example, the Corinthian Church Paul wrote to in the Bible was shallow thinking, chaos, and divisive. I attempted to list them from most righteous to least.
1. The Church of Persecution
There are Christians that are brutally murdered for simply believing in Jesus. They are attacked so severely that they are the poorest financially of all churches. An example of this are the Christians who where killed in China for their faith in Jesus Christ.
I know your tribulation and your poverty (but you are rich), and the blasphemy by those who say they are Jews and are not, but are a synagogue of Satan. 'Do not fear what you are about to suffer. Behold, the devil is about to cast some of you into prison, that you may be tested, and you will have tribulation ten days. Be faithful until death, and I will give you the crown of life.
(Rev 2:9-10 NAS)
Blessed is a man who perseveres under trial; for once he has been approved, he will receive the crown of life, which the Lord has promised to those who love Him.
(Jam 1:12 NAS)
2. The Church of Perseverance
These Christians keep on trucking through thick and thin. Though they may never be killed for the faith, they endure much and last long. An example would be Churches that last for hundreds of years.
I know your deeds. Behold, I have put before you an open door which no one can shut, because you have a little power, and have kept My word, and have not denied My name. 'Behold, I will cause those of the synagogue of Satan, who say that they are Jews, and are not, but lie– behold, I will make them to come and bow down at your feet, and to know that I have loved you. 'Because you have kept the word of My perseverance, I also will keep you from the hour of testing, that hour which is about to come upon the whole world, to test those who dwell upon the earth.
(Rev 3:8-10 NAS)
3. The Church of No Tolerance
This is the witch hunting church. These churches try to keep a true witness; however, they are unloving and judgmental. They enact strict judgments on people whether they are true or not. An example is the Southern Baptist Church's "How to smoke out a Calvinistic pastor in your church" memo.
'I know your deeds and your toil and perseverance, and that you cannot endure evil men, and you put to the test those who call themselves apostles, and they are not, and you found them to be false; and you have perseverance and have endured for My name's sake, and have not grown weary. 'But I have this against you, that you have left your first love. 'Remember therefore from where you have fallen, and repent and do the deeds you did at first; . . .
(Rev 2:2-5 NAS)
Then Peter came and said to Him, "Lord, how often shall my brother sin against me and I forgive him? Up to seven times?" Jesus said to him, "I do not say to you, up to seven times, but up to seventy times seven.
(Mat 18:21-22 NAS)
Do not receive an accusation against an elder except on the basis of two or three witnesses. Those who continue in sin, rebuke in the presence of all, so that the rest also may be fearful of sinning.
(1Ti 5:19-20 NAS)
4. The Church of Division
This is the church that is filled with "Know-It-All's." Everything is a debate or an argument over who is right and who is wrong. An example of this is the church that split over a piano bench.
But shun foolish controversies and genealogies and strife and disputes about the Law; for they are unprofitable and worthless. Reject a factious man after a first and second warning, knowing that such a man is perverted and is sinning, being self-condemned.
(Tit 3:9-11 NAS)
That they were saying to you, "In the last time there shall be mockers, following after their own ungodly lusts." These are the ones who cause divisions, worldly-minded, devoid of the Spirit.
(Jud 1:18-19 NAS)
5. The Church of the Magnificent leader
This is one of the most common churches of today. This is the church that all the members swear to the pastor of the church. These members simply listen to the lullaby of the pastors speech to delude themselves into a false sense of security with God. An example of this would be Calvary Chapel Costa Mesa or "Chuck Smiths Church," or Mark Driscoll's"Mars Hill" church.
For when one says, "I am of Paul," and another, "I am of Apollos," are you not mere men? What then is Apollos? And what is Paul? Servants through whom you believed, even as the Lord gave opportunity to each one. So then let no one boast in men. . .
(1Co 3:4-5, 21 NAS)
For the time will come when they will not endure sound doctrine; but wanting to have their ears tickled, they will accumulate for themselves teachers in accordance to their own desires and will turn away their ears from the truth, and will turn aside to myths. (2Ti 4:3-4 NAS)
6. The Church of Shallow Thinking
The shallow thinking church is the one who cannot handle being told any deep subject. They only want to talk about irrelevant and non life applicable things. This skit is an example of a shallow thinking church.
And I, brethren, could not speak to you as to spiritual men, but as to men of flesh, as to babes in Christ. I gave you milk to drink, not solid food; for you were not yet able to receive it. Indeed, even now you are not yet able, for you are still fleshly. For since there is jealousy and strife among you, are you not fleshly, and are you not walking like mere men?
(1Co 3:1-3 NAS See also Heb 5:11-14)
7. The Church of the Lukewarm
When the homeless enter this church, they get escorted out. This church shows partiality to the wealthy and push those with no money out the door. They have no need to preach the gospel as they have everything they need. This Church had a special needs boy removed from church for making noise.
The Lukewarm church wants their entertainment quite.
And to the angel of the church in Laodicea write: The Amen, the faithful and true Witness, the Beginning of the creation of God, says this: 'I know your deeds, that you are neither cold nor hot; I would that you were cold or hot. 'So because you are lukewarm, and neither hot nor cold, I will spit you out of My mouth. Because you say, "I am rich, and have become wealthy, and have need of nothing," and you do not know that you are wretched and miserable and poor and blind and naked,
(Rev 3:14-17 NAS)
My brethren, do not hold your faith in our glorious Lord Jesus Christ with an attitude of personal favoritism. For if a man comes into your assembly with a gold ring and dressed in fine clothes, and there also comes in a poor man in dirty clothes, and you pay special attention to the one who is wearing the fine clothes, and say, "You sit here in a good place," and you say to the poor man, "You stand over there, or sit down by my footstool," have you not made distinctions among yourselves, and become judges with evil motives?
(Jam 2:1-4NAS)
8. The Church of Dead Works
This church has pot lucks, cookie bakes, and lots of busy work to do. Nothing is done that will ever impact the world in any real significant way. They especially refuse to teach and hold fast the truth of the gospel. They fill all their plans with extracurricular activities that have nothing to do with God, Christ, or Salvation. This is the "Fellowship" church that really is nothing more than a social group. An example is this skit on eating cookies or having cake to interrupt any meaningful thought.
. . . 'I know your deeds, that you have a name that you are alive, but you are dead. 'Wake up, and strengthen the things that remain, which were about to die; for I have not found your deeds completed in the sight of My God. 'Remember therefore what you have received and heard; and keep it, and repent.. . .
(Rev 3:1-3 NAS)
For just as the body without the spirit is dead, so also faith without works is dead.
(Jam 2:26 NAS)
Therefore leaving the elementary teaching about the Christ, let us press on to maturity, not laying again a foundation of repentance from dead works and of faith toward God,
(Heb 6:1 NAS)
9. The Church of Chaos
These members are all over the place. Everybody is talking, shouting, and running around all at the same time. There is no structure or order. At least nothing a normal person would be able to understand. Make sure to show up in riot gear at these churches. An example of this is the pentecostal church.
for God is not a God of confusion but of peace, as in all the churches of the saints. But let all things be done properly and in an orderly manner.
(1Co 14:33, 40 NAS)
And God has appointed in the church, first apostles, second prophets, third teachers, then miracles, then gifts of healings, helps, administrations, various kinds of tongues. All are not apostles, are they? All are not prophets, are they? All are not teachers, are they? All are not workers of miracles, are they?
(1Co 12:28-29 NAS)
10. The Church of Great Gain
This is nothing more than a business opportunity disguised as a vaguely familiar religious scene. They are "Jesus Peddlers." They go about like salesmen, selling prayer clothes, miracle water, and holy oil. Here is an example of churches that should be prosecuted as criminals.
For we are not like many, peddling the word of God, but as from sincerity, but as from God, we speak in Christ in the sight of God.
(2Co 2:17 NAS)
For there are many rebellious men, empty talkers and deceivers, especially those of the circumcision, who must be silenced because they are upsetting whole families, teaching things they should not teach, for the sake of sordid gain.
(Tit 1:10-11 NAS)
. . . between men of depraved mind and deprived of the truth, who suppose that godliness is a means of gain.
(1Ti 6:5 NAS)
11. The Church of Immorality
The Church of Immorality is a special breed of church that is starting to really flourish in today's times. This is the church that has no intention or desire to follow any of God's laws. When you read a Bible verse to them, they somehow twist the meaning to be the opposite. They somehow call evil good, and good evil. Not only do they make believers sick, they make those who don't believe in God sick as well as. Examples are Churches with pedophiles, adulterers, greed, and idolatry.
'I know where you dwell, where Satan's throne is; and you hold fast My name, and did not deny My faith, even in the days of Antipas, My witness, My faithful one, who was killed among you, where Satan dwells. 'But I have a few things against you, because you have there some who hold the teaching of Balaam, who kept teaching Balak to put a stumbling block before the sons of Israel, to eat things sacrificed to idols, and to commit acts of immorality.
(Rev 2:13-14 NAS See also Rev 2:20)

It is actually reported that there is immorality among you, and immorality of such a kind as does not exist even among the Gentiles, that someone has his father's wife.
(1Co 5:1 NAS)
Woe to those who call evil good, and good evil; Who substitute darkness for light and light for darkness; Who substitute bitter for sweet, and sweet for bitter!
(Isa 5:20 NAS)
12. Synagogue of Satan
Synagogue of Satan is the religion of anti religion. These members are haters and look to wreck any sincere persons life. Jehovah witnesses are perfect examples of this with manipulation, false doctrines, and dis-fellowship with their own family to get their way.
Keeping faith and a good conscience, which some have rejected and suffered shipwreck in regard to their faith. Among these are Hymenaeus and Alexander, whom I have delivered over to Satan, so that they may be taught not to blaspheme.
(1Ti 1:19-20 NAS)

'Behold, I will cause those of the synagogue of Satan, who say that they are Jews, and are not, but lie– behold, I will make them to come and bow down at your feet, and to know that I have loved you.
(Rev 3:9 NAS See also Rev 2:9 )

For you, brethren, became imitators of the churches of God in Christ Jesus that are in Judea, for you also endured the same sufferings at the hands of your own countrymen, even as they did from the Jews, who both killed the Lord Jesus and the prophets, and drove us out. They are not pleasing to God, but hostile to all men, hindering us from speaking to the Gentiles that they might be saved; with the result that they always fill up the measure of their sins. But wrath has come upon them to the utmost.
(1Th 2:14-16 NAS)